Experience :: Successful Appeal
Successful Appeal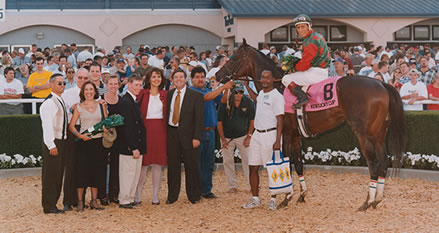 Successful Appeal to Stand at Walmac-South (The Bloodhorse November 25, 2000)
"Successful Appeal is the type of horse that has historically done well in the Florida market," according to Dean De Renzo of Walmac-South and Hartley/De Renzo Thoroughbreds. "With hiBred by Harry Magurian, Jr., Successful Appeal (Valid Appeal-Successful Dancer, by Fortunate Prospect) has won eight of 22 races and earned $654,681. He captured the Cowdin Stakes (gr. II), at two, the Kentucky Cup Sprint (gr. II), Withers (gr. II) and Amsterdam (gr. III) Stakes the following year. He was voted 1999 Florida Bred Sprint Champion and in 2000 won the A.G. Vanderbilt Handicap (gr. II). Walmac International bought a 50% interest in Successful Appeal from Starview Stable in the spring of 2000. Walmac will acquire the remaining interest at the time Successful Appeal enters stud.
quire the remaining interest at the time Successful Appeal enters stud.
Scenes From The 2000 Breeders' Cup
Did someone say history has a way of repeating itself? Well, for the Successful Appeal members, that's just what happened. History repeated itself once again this year with Successful Appeal, who went back to the Breeders' Cup to compete in the Sprint.
This year's field of 14 sprinters was a very talented, highly competitive field. JCK felt that although he came in seventh he ran great and beat many of the horses that have beaten him recently. The racetrack surface at Churchill Downs was not to his liking and he fought on gamely but had no chance of catching the leaders. Despite the disappointing finish, a good time was had by all Successful Appeal members. They will always be able to remember two Breeders' Cups which their horse had the privilege to run in.